Sharon Adult Education is open to all age 18 and older residents of Sharon and the surrounding communities, however, we have now opened select classes to individuals 14 and older (see brochure for those programs).  We strive to offer classes that address a variety of cultural, social, and continuing educational needs.  We are always open to new ideas for classes and instructors.  Please let us know how we can help to add a little class to your life.
Is there a class you would like us to try to offer in the Fall? Click HERE to enter your suggestion!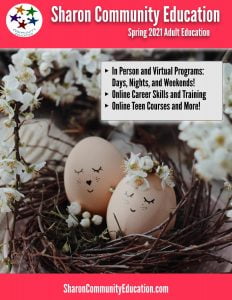 Registration opens March 5th for the Spring 2021 Adult Education program!
Due to continued concerns regarding COVID-19, we have decided for the health and well-being of our users, instructors, students, teachers, and staff within the schools, our Spring 2021 session will be mostly virtual with select programs held outdoors. We are constantly monitoring the situation and are making program adjustments based on recommendations from town and state Health Officials.
Click here for the full list of our Spring 2021 Instructors and their biographies!
This page is where we will provide updates on Adult Education programs.
*PROGRAM CHANGE* New dates for Photography 101
Due to a change in the instructor's availability the start of this program will be delayed by one week and will begin on May 27th. We still have availability for this 4 week hybrid (virtual/in person outdoor) class. This class is for serious amateurs looking to increase their knowledge and skills of Digital Photography. If this is you, click the Digital Photography 101 link to learn more and register.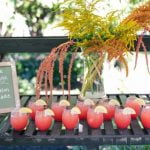 *NEW* Alfresco Happy Hour (Virtual Workshop), Thursday, May 27th at 7:00 pm.
Spring is here and with the relaxation of restrictions for gatherings there is much to celebrate. As you contemplate the best ways to ease back into socializing in person, let professional host, Wendy Harrop show you how to set up your backyard for a safe Alfresco Happy Hour! Hosting friends outdoors with a few make it yourself signature cocktails (or mocktails) and signature cheese board sounds like the perfect ingredients for a delicious time! Must be 21+ to participate.
This workshop is fun to attend (even virtually) with friends, so we are offering a BOGO deal! Each registered participant will be able to register a friend/family member to join for FREE! Friends or family members must be added at the time of registration for the BOGO deal to apply.  Click HERE to register!
We have a wide range of new classes and workshops for the Spring 2021 session! Here's what's coming up! Click HERE to view our online catalog.

Community Education has partnered with ed2go.com to bring online learning opportunities to our community. We will be bringing both self-paced and instructor lead programs to you in a wide range of core fundamental subjects. We are also offering online career certification training! Registration is now open for ed2go classes!
Areas of Study Include: Arts & Design, Business, Computer Applications, Computer Science, Construction & Trades, Health & Fitness, Hospitality, Information Technology, Language, Legal, Math & Science, Teacher Professional Development, Test Prep, and Writing
Fundamental Skills Courses:
Our Fundamental Skills courses are perfect for people looking to brush up on existing professional skills or learn new ones. For your convenience, most classes are offered in a self-paced or instructor lead format with a new session starting monthly. Click here for full list of courses.
Career Training Certification Programs:
Prepare for employment in some of today's hottest careers with a comprehensive, affordable, and self-paced online Career Training Program. Upon successful completion of all required coursework, you will receive a Certificate of Completion and exam vouchers for some programs! Click here for full list of courses.
We have included some classes either specifically for teens or Adult Ed classes that are open to teens. See our programs below open to ages 15+. Click HERE to view our online catalog.
Sharon Community Education for the first time during the 2019/2020 school year, introduced our Free Speaker Series. Unfortunately, due to the COVID-19 pandemic, we had to cancel two of our three scheduled speaking events. Due to uncertainty surrounding when people will be able to safely gather and the continued relevance and importance of cultural competency education, we still plan to bring Ken Nwadike Jr. and Dr. Beverly Daniel Tatum to speak in Sharon, when it is safe to do so. Please stay tuned for new dates as they become available.

Ken Nwadike Jr.- The Free Hugs Project
Ken Nwadike Jr is an American documentary filmmaker, motivational speaker, and peace activist popularly known as the "Free Hugs Guy." Ken is the founder of the Free Hugs Project. His "Free Hugs" videos have reached hundreds of millions of views on Facebook and YouTube. His mission is to promote peaceful and meaningful discussion between law enforcement and protestors.

Dr. Beverly Tatum
Dr. Beverly Daniel Tatum is a psychologist, administrator, and educator who has conducted research and written books on the topic of racism. Focusing specifically on race in education, racial identity development in teenagers, and assimilation of black families and youth in white neighborhoods. Dr. Tatum will be visiting Sharon for a moderated discussion (date to be determined).
Community Education offers 50% discounts on tuition for select Adult Education programs to Senior Citizens and Employees of the Town of Sharon and Sharon Public Schools. Discounts are applicable unless it is stated "*Discounts do not apply." Tuition only would be reduced, not the materials cost or fees. One, two, or three night classes are not discounted.
Discounts for Seniors are available through our online registration platform. Town and SPS employees should contact Sara Norton at the Community Education office at: (781) 784-1574 x 4 or snorton1@sharonschools.net to complete registration.
If you are interested in offering a program for Adult Ed, please complete and submit the Course Proposal form! We are always looking for new and exciting programs and are now accepting submissions for the Fall 2021 session. We are keeping a close eye on the COVID-19 pandemic and are anticipating the possibility that programs will be a hybrid of virtual and in-person programs to be held outdoors.