Group Trips and Activities are open to all families in Sharon and the surrounding communities. All children must be accompanied by an adult. 
Boston Symphony Orchestra's Family Concert, April 1, 2023
One Book, One Town of Sharon and Sharon Community Education have partnered to invite music lovers of all ages to the Boston Symphony Orchestra's Family Concert in conjunction with this year's OBOT selection: The Violin Conspiracy by Brendan Slocumb. From Beethoven to Carlos Simon, this family-friendly program explores the journeys of major composers who wrote groundbreaking works while they were young, and how today's young composers are having the same significant impact.
Admission for adults is $20.00 and Free for children (maximum of 2 free children per adult admission). Transportation is not provided for this event. There are several options for parking and public transportation on the BSO's visitors page. The performance begins at 12:00 pm and lasts approximately 1 hour with no intermission.
Beetlejuice The Musical on April 30, 2023
It's showtime! Based on Tim Burton's dearly beloved film, this hilarious musical tells the story of Lydia Deetz, a strange and unusual teenager whose whole life changes when she meets a recently deceased couple and a demon with a thing for stripes. With an irreverent book, an astonishing set, and a score that's out of this Netherworld, BEETLEJUICE is "SCREAMINGLY GOOD FUN!" (Variety). And under its uproarious surface (six feet under, to be exact), it's a remarkably touching show about family, love, and making the most of every Day-O! This show contains strong language, mature references, and a lot of the crazy, inappropriate stuff you would expect from a deranged demon. Recommended for ages 10+. 
The run time for Beetlejuice is 2 hours, 30 minutes including one 15 minute intermission. The performance begins at 6:30 PM. The cost of admission is $47.00 per person and the seats are located in the outer orchestra section (regularly priced at $89.00).
Transportation is not provided for this event. To plan your visit, we have included links to the Parking and Restaurants recommended by PPAC. *Please note that not all of the restaurants listed are within walking distance from the theater.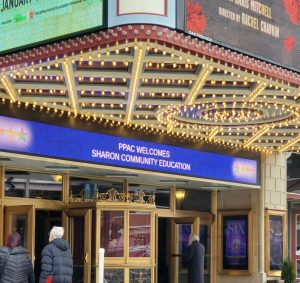 Thank you PPAC!
We want to thank Providence Performing Arts Center for the warm welcome to our group as we arrived to see Jagged Little Pill The Musical on January 22nd! The performance was amazing and the people at PPAC were fantastic as always!
Reservations may be made online, over the phone by calling Sara Norton at (781) 784-1574 ext. 5, or by visiting the Community Education office located at 181 Pond Street, Sharon (Use Door A21). Reservations are not final until payment has been received and space is available on a first come, first served basis. Refunds are provided only in the event of cancellation of the trip or over subscription. Tickets can be picked up within 2 weeks prior to the event date at the Community Education office, Monday - Friday from 8:00 am to 4:00 pm.
If transportation is provided for an event, the transportation cost will be included in the cost of the ticket and cannot be reduced for guests who opt to take their own vehicle. Any guests wishing to take their own vehicle should reach out to Sara Norton at (781) 784-1574 x 5 or snorton1@sharonschools.net to make arrangements to receive your tickets in advance of the trip.