Family trips are open to all families in Sharon and the surrounding communities. All children must be accompanied by an adult on trips. Round trip bus transportation is included for all trips on our air conditioned bus, unless otherwise specified.
Unless otherwise specified the bus leaves in front of the main entrance to Sharon High School.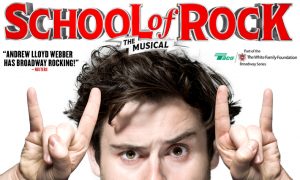 SCHOOL OF ROCK
Based on the hit film, this hilarious new musical follows Dewey Finn, a wannabe rock star posing as a substitute teacher who turns a class of straight-A students into a guitar-shredding, bass-slapping, mind-blowing rock band. This high-octane smash features 14 new songs from ANDREW LLOYD WEBBER, all the original songs from the movie, and musical theater's first-ever kids rock band playing their instruments live on stage.
WHEN: Friday, March 1, 2019
WHERE: Providence Performing Arts Center, Providence, RI.
TIME: 6:00 PM to 10:30 PM (Departure at main entrance of Sharon High School)
COST: $50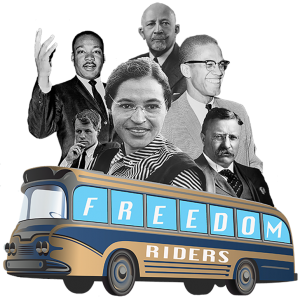 FREEDOM RIDERS
Freedom Riders the play, is set in 1961 as two young women from Harvard debate whether to join the historical Freedom Rides of the 1960s. Freedom Riders feature many of the rich historical characters who paved the way for the Civil Rights Movement, Dr. Martin Luther King, Jr., Rosa Parks, Malcolm X, Bobby Kennedy, Theodore Roosevelt, and W.E.B. Dubois to name a few.   Experience sit-ins and lunch counters and the dark days of Jim Crow. Freedom Riders is essential viewing and reminds us all of the value of freedom and the courage it takes to make a difference. A study guide for this drama is available. Approximate run time is about 70 minutes.
After the performance, the audience is invited to stay for a "Talk Back" with the actors. This is a great opportunity to learn about and discuss the Civil Rights movement and the people that were instrumental in bringing about change.
DATE: Saturday, March 9th
TIME: 8:00 pm
LOCATION: Massasoit Community College's Buckley Performing Arts Center, 1 Massasoit Blvd., Brockton, MA. (Transportation is not provided for this event)
COST: $12

JERSEY BOYS
They were just four guys from Jersey, until they sang their very first note. They had a sound nobody had ever heard… and the radio just couldn't get enough of. But while their harmonies were perfect on stage, off stage it was a very different story — a story that has made them an international sensation all over again. Go behind the music and inside the story of Frankie Valli and The Four Seasons in the Tony and Grammy Award® winning true-life musical phenomenon, JERSEY BOYS. From the streets of New Jersey to the Rock and Roll Hall of Fame, this is the musical that's just too good to be true.
*Due to some language and adult themes, this show may not be appropriate for children under 12.
WHEN: Friday, May 10, 2019
WHERE: Providence Performing Arts Center
TIME: 6:00 PM to 10:30 PM (Departure at main entrance of Sharon High School)
COST: $50