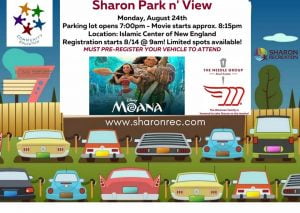 The first Park N' View movie night on August 6th was a great success and we thank all of the families that came out! Sharon Recreation Department and Sharon Community Education are very happy to announce our last Park N' View movie night of the summer! We would very much like to thank our sponsors, The Needle Group and Mercury International Inc., and the Islamic Center of New England for agreeing to host the event. The final movie night will be held on Monday August 24th at the back field area of the Islamic Center of New England (74 Chase Dr, Sharon, MA 02067) and will feature Moana. Admission will begin at 7:00pm, with the film expected to begin at approximately 8:15pm when the sun sets.
This event is FREE to attend, however spots are limited and registration is required and will be on a first come, first serve basis. To register, please visit www.sharonrec.com and be sure to have an account set up with us. Registration for the event will open on Friday, August 14th at 9:00am to Sharon residents. You will only need to register one person in your household (you do not need to register all members of your party). Please remember that space is limited and registration will be closed when we reach our allotted number of cars.
To ensure this event is safe and enjoyable for all, we ask that all registrants review our event guidelines and FAQ with your family/group. This can be viewed on our website through the following link:
https://sharonrec.com/forms/5920_park_n_view_movie_night_guidelines.pdf
The event will have a portable bathroom available on-site. Sweet 16 Ice Cream will be at the event and the menu can be found here: www.sweetsixteenice.com/menu/
Thank you and we hope to see you there!